INTERPHEX Week Japan is Asia's leading pharma and cosmetics R&D and manufacturing technology show with 1,280* exhibitors and 45,000* visitors. The show consists of 4 exhibitions for pharmaceutical technologies – INTERPHEX JAPAN (Manufacturing & Packaging), in-Pharma Japan (Ingredients), BioPharma Expo (Biopharmaceutical) and PharmaLab Japan (Drug Discovery).Manufacturing & packaging, biopharmaceutical, drug discovery technologies and APIs/pharma ingredients, etc. will be showcased from all around the world. The outline of exhibition is as below:
1,280* Exhibitors & 300* Conference Sessions in Total
Dates: July 3 – 5, 2019 Venue: Tokyo Big Sight, Japan Organiser: Reed Exhibitions Japan Ltd.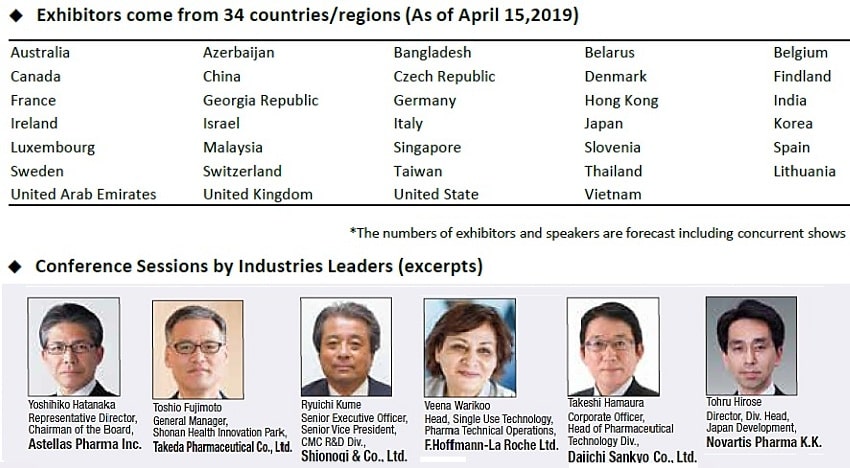 For other information, please visit our website >>> https://www.interphex.jp/en/
Visitor Ticket Request Form (Free) >> https://www.interphex.jp/inv_en/
VIP Registration Form (Free) >> https://www.interphex.jp/vip_en/
Group Visit Registration Form (Free) >> https://www.interphex.jp/en-gb/visit/group.html
Useful Information for Visiting
Conference Program >> https://www.interphex.jp/seminar_en/
Exhibitor Directory >> https://d.interphex.jp/en/2019/Exhibitor-Search/
List of Exhibitors >> https://www.interphex.jp/exhibitor_en/
Matching System >> https://www.interphex.jp/en-gb/visit/matching.html
Hotel Info >> https://www.interphex.jp/en-gb/visit/hotel.html
Venue & Access >> https://www.interphex.jp/en-gb/visit/access.html
Tokyo Sightseeing >> https://www.interphex.jp/en-gb/visit/sightseeing.html