Healthy Interactions, a global leader in health education, in collaboration with Merck , known as MSD outside the United States and Canada, announced the launch of map4health™ – a digital platform and mobile application in the U.S. that was designed to help facilitate and enhance communications between diabetes patients and educators.
This technology was developed as an extension of the Journey for Control collaboration between Healthy Interactions and Merck, and will make its debut today at the 2018 American Association of Diabetes Educators (AADE) Annual Conference in Baltimore.
Map4health is designed as a platform to help improve the quality of diabetes patient support in between in-person coaching sessions by enabling patients to connect with educators through text and video-chat, as well as providing weekly digital activities to sustain patient engagement. Patients may choose to securely log health information that their educators are able to review and respond to within the platform.
"Healthy Interactions has collaborated with Merck for over 10 years on Journey for Control to encourage patients living with diabetes to become more engaged stewards of their health," said Paul Lasiuk, co-founder and chief executive officer, Healthy Interactions. "Today, we are proud to introduce map4health, and believe this tool will further enhance the positive impact that diabetes educators are making in the lives of their patients."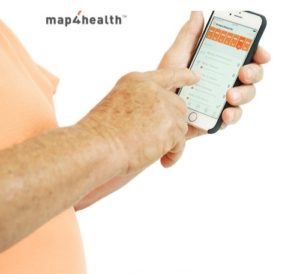 In 2007, Healthy Interactions and Merck, also in collaboration with the American Diabetes Association (ADA), launched Journey for Control – a patient-centric education initiative targeting diabetes educators and utilizing the U.S. Diabetes Conversation Map® – to collaborate on developing tools focused on lifestyle and behavioral change to help healthcare providers improve diabetes management for people living with the disease.
"The American Diabetes Association supports technology-based methods, along with individual and group settings, for the delivery of effective diabetes self-management education and support," according to Matt Petersen, vice president at the American Diabetes Association. "The ADA has been extremely satisfied with the ability to connect providers and patients that has been enabled through our collaboration with Healthy Interactions and Merck."
"We are thrilled our work with Healthy Interactions will provide diabetes patients and educators a digital platform for dialogue and personalized self-management tools," added Lisa French, associate vice president, strategy and commercial model innovation, Merck. For more information on map4health, please visit www.map4health.com.
About the Healthy Interactions and Merck Collaboration
The collaboration between Healthy Interactions and Merck began in 2007 to address unmet educational needs in diabetes management.
Map4health, launched in 2018, is an evolution of the companies' 11-year collaboration aimed to better equip health educators to deliver improved patient support and education for patients living with diabetes. The digital tool is designed to foster communications to help patients meet their healthcare goals. The map4health platform is owned and developed by Healthy Interactions in collaboration with Merck and can be integrated into existing diabetes self-management education and support (DSMES) programs, such as Journey for Control.
About Healthy Interactions, Inc.
A global leader in health education, Healthy Interactions, Inc. is devoted to driving Personal Health Engagement—our term for helping individuals commit to healthier actions. We create powerful educational approaches that inspire valuable insights and change personal health behaviors. We build partnerships with leading medical and disease associations, not-for-profit organizations, corporations, and healthcare professionals. Our approaches enable millions of people to take control of their health and live their best lives. Our digital tools empower health care consumers to move toward their goals by providing information, tracking, and ongoing interactions with peers and health educators. The result is that patients become more active partners in their health, which improves the outcomes of their diseases. We partner with health systems and clinics across the U.S. and with pharmaceutical companies that sponsor our programs around the world.
About Merck
For more than a century, Merck, a leading global bio-pharmaceutical company known as MSD outside of the United States and Canada, has been inventing for life, bringing forward medicines and vaccines for many of the world's most challenging diseases. Through our prescription medicines, vaccines, biologic therapies and animal health products, we work with customers and operate in more than 140 countries to deliver innovative health solutions. We also demonstrate our commitment to increasing access to health care through far-reaching policies, programs and partnerships. Today, Merck continues to be at the forefront of research to advance the prevention and treatment of diseases that threaten people and communities around the world – including cancer, cardio-metabolic diseases, emerging animal diseases, Alzheimer's disease and infectious diseases including HIV and Ebola. For more information, visit www.merck.com