In today's biopharmaceutical industry, manufacturing partners recommend pharma and biotech companies to begin their injectable drug development with the end in mind. Drug-owners should take into account a major realignment of priorities for new drugs, especially their lifecycle evolution. The trend in shifting patient requirements drives the need for improvements in patient-friendly products that support not just efficacy, but convenience, compliance, and market differentiation.
Growing market, adapted goals
Parenteral products, particularly, are a major growth engine in today's aspiring biopharma market with a global share expected to grow from 53% in 2020 ($606 bn USD) to 57% in 2027 ($1,298 bn USD), outpacing other routes of administration.1 On average, more than 40% of the drugs approved by the FDA are injectables, with increasing subcutaneous and intramuscular administration forms.2,3
Despite this growth, new parenterals will be successful only when they have a clear and holistic picture of the key parameters that define the product's pathway to success. These include clinical, commercial, logistic, and operational factors as well as the appropriate delivery system for treatment. These points are as important as the active ingredient itself.
Defining these parameters is a key step for a fully integrated, efficient, and resilient drug development and manufacturing process.
Market-shaping trends
New injectables will be launching into a market that is rapidly evolving with four global trends that drive the transformation.

Four major trends are shaping the market: chronic disease, development costs, at-home care, and Covid-19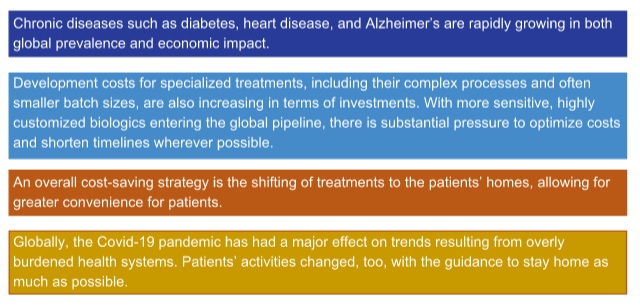 Chronic diseases such as diabetes, heart disease, and Alzheimer's are rapidly growing in both global prevalence and economic impact.
Development costs for specialized treatments, including their complex processes and often smaller batch sizes, are also increasing in terms of investments. With more sensitive, highly customized biologics entering the global pipeline, there is substantial pressure to optimize costs and shorten timelines wherever possible.
An overall cost-saving strategy is the shifting of treatments to the patients' homes, allowing for greater convenience for patients.
Globally, the Covid-19 pandemic has had a major effect on trends resulting from overly burdened health systems. Patients' activities changed, too, with the guidance to stay home as much as possible.
These shifts have challenged biopharmaceutical companies to not only launch new treatments faster and more efficiently, but enhance their products that make self-administration as safe, effective, and convenient as possible. These shifts have also reshaped the biopharma market from an efficacious molecule with a familiar, go-to injection method, to a complex, customized treatment approach, for example, with a delivery system optimized for convenient, long-term self-administration at home.
Delivery innovations to fulfill changing demands
Today's markets demand products that deliver therapeutic benefits as well as provide an easy, safe, adherence-supporting administration experience. That means thinking beyond the molecule, its therapeutic target and launch configuration. New injectable products demand a holistic lifecycle development plan to continually improve the product's convenience and patient-friendliness.
Innovative delivery systems have shown that they can provide significant value-adding differentiation to the user experience. Prefilled syringes are easier and safer to administer and enhance compliance – a significant differentiating value. Pens and autoinjectors are convenient, compact, and easy to handle and can be a useful way to facilitate long-term self-administration.
When uniform dosing is required, innovative clip-and stick-on parenteral delivery systems can be a solution. These wearable devices are convenient and discreet and enable consistent dosing of large product volumes.
Similarly, connected smart devices driven by Pharma 4.0 combine injection and information systems and bundle personalized dosing with data capture and reporting capabilities.
In summary, these innovations enhance the convenience for patients who are likely to be administering their own treatment. As global trends continue to accelerate in this direction, such innovations will offer an increasingly important goal in new injectable product lifecycle plans.
The value of strategic partners
New parenteral products can benefit from a variety of delivery innovations that push the product's lifecycle and contribute significant value to the market profile, but they can also add a certain level of complexity. That is why the choice of the right strategic production partner is important. One who can provide multifaceted technical expertise, solution customization, and market foresight – not just prior to and at launch, but across the entire product lifecycle.
In a nutshell
The new generation of high-value injectable products is in direct response to the major trends occurring in the global biopharma market. As chronic conditions become more prevalent and patient care increasingly shifts from the clinic to the home, new medication systems that combine both clinical efficacy and differentiating administration experiences are crucial. Pharma and biotech companies must deal with added complexity within their product development plans. Often one of the first steps is finding the right development and manufacturing partner that has the proven experience in putting new injectables on a path to success right from the start.
References
Global Data Sales Analytics, 21 May 2021
FDA.gov
ibid
About the author: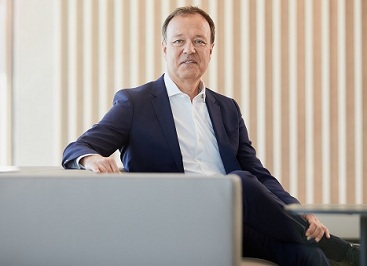 Peter Soelkner has been a Managing Director of Vetter Pharma-Fertigung GmbH & Co. KG since June 2008. In 2009, he was also appointed Managing Director of Vetter Pharma International GmbH, the company's marketing and sales organization. Soelkner graduated from the University of Dortmund, Germany, in 1992 with a degree in chemical engineering and earned an MBA from Columbia University, New York, in 2001. Before joining Vetter, he held positions in Germany and North America at Sartorius AG and Sartorius North America Inc., in R&D, marketing, key account management, and general management roles. At Vetter, from 2003 to 2007, Soelkner managed the company's key account program and global end-to-end supply chain. He left the company for a year to serve as Vice President of global key account management at Sartorius Stedim Biotech (USA) before returning to Vetter in 2008.
About Vetter
Headquartered in Ravensburg, Germany, Vetter is a global leading contract development and manufacturing organization (CDMO) with production facilities in Germany and the United States. Currently employing 5,500 individuals worldwide, the company has long-term experience in supporting biotechnology and pharmaceutical customers both large and small. Vetter services range from early stage development support including clinical manufacturing, to commercial supply and numerous packaging solutions for vials, syringes and cartridges. As a leading solution provider, Vetter appreciates its responsibility to support the needs of its customers by developing devices that contribute to increased patient safety, convenience, and enhanced compliance. Great importance is also given to social responsibility including environmental protection and sustainability. Learn more about Vetter at www.vetter-pharma.com.