For injectable medications, the shift from preclinical to clinical development is one of the most important transitions in the development cycle. It's the point where a lab-based drug substance becomes a patient-ready drug product, as well as a process that can help set the stage for that product's future clinical, regulatory, and commercial success.
A key step in this process: Filling a clinical batch. Many injectable drug owners approach this project with their focus on speed. But while efficiency matters during clinical filling, it's equally important that this process be conducted in a smart, strategic way – one that not only expedites clinical material to sites, but also ensures the product's integrity, safety, and compliance with good manufacturing practices.
So, if your injectable drug product is ready for clinical trials, how should you approach your clinical filling project? Like any key step in the product life cycle, the right insights, guidance, and partners are key – especially if those partners are engaged as early as possible. But with your trial launch timelines at stake, having a smart starting point is also critical. The following 6 steps can help you streamline your product's transition from lab to clinic, build a strategic plan for your clinical filling project, and put your product on a path to long-term success.
By following these steps, injectable drug owners can set themselves up to: 
Efficiently fill a high-quality clinical batch
Get out ahead of potential logistic, technical, and regulatory hurdles
Identify the right expert partners to help them navigate the transition from lab to clinic
Step 1: Build a proactive plan
Before you launch your clinical filling project, the first thing you need is a clear, realistic game plan.
That plan should be detailed and honest, and account for everything that could impact your or your partners' ability to hit key trial or regulatory milestones. Make sure you consider factors like product complexity, formulation processes and excipients, and the development work your manufacturing partner will need to perform to prepare for your clinical filling run. The more comprehensive your plan, the more likely it will be that you can avoid costly downstream delays.
Step 2: Identify the primary packaging and raw materials you need – and where to obtain them
Selecting and sourcing these assets as early as possible can help you keep your whole clinical filling project on track.
You can avoid some particularly costly downstream surprises by thoroughly assessing your primary packaging options – not just vial or syringe, but also the exact size of vial you need – and ensuring that you have a reliable and consistent source for your selected format.
The start of your clinical filling project is also the time to work with your manufacturing partner to catalogue the raw materials for both your API and packaging, and what will be required to source them. If some components are hard to obtain, or require special customs clearance, you don't want to find that out when you're ready to fill your clinical material. Identify any potential logistic complications as early as possible.
Step 3: Lock in scopes and contracts
As you prepare to fill the clinical material for your trial, make sure all your partners, suppliers, and other external resources are on the same page about your expectations and their responsibilities. You may need multiple outsourced teams to fill your clinical batch, so it's vitally important that they all have the same shared understanding of your product, goals, and milestones.
This team alignment should also include advanced planning for audits. Unexpected regulatory checks can throw your whole project off-course, so plan ahead to ensure that you have the support you need to manage these oversight processes. Audits often involve both internal and third-party teams, so proactively book all the resources and involve all the parties you need to help you demonstrate your compliance. It will help you avoid downstream disruptions and costly delays.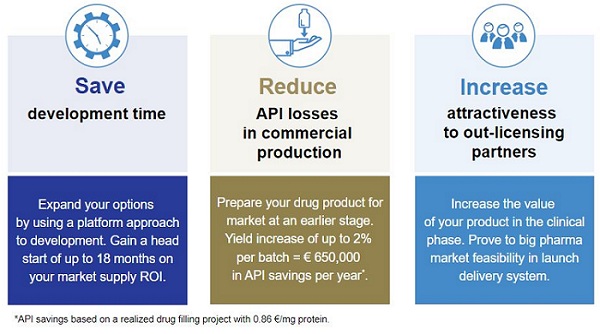 Step 4: Put good development practices in place
Your clinical filling project will add several new dimensions to the way your product is handled, what you need to know about it, and the methods used to document this information. This includes a robust process development approach, clear data capture and documentation protocols, and standardized procedures for transferring information to and from your manufacturing partners.
The start of this project is also the best time to align your production processes with relevant guidelines on quality and transferability. Effective and consistent implementation of these protocols will help streamline both your clinical batch and future transitions to larger-scale commercial filling facilities.
An important step in this alignment: Establishing your Critical Quality Attributes (CQAs) and Critical Process Parameters (CPPs). Clearly defining these specifications will help ensure that your team and all your partners are working toward delivery of the same consistently high-quality product. This is an area where an expert CDMO can be particularly helpful.
Step 5: Align all your teams and processes with cGMPs
Current Good Manufacturing Practices (cGMPs) set the regulatory bar for safe, high-quality production of any injectable drug product. A clinical batch is typically one of the first filling runs that needs to align with these regulations.
As you can see, scaling production to fill a clinical batch involves much more than simply producing a larger volume of your product. Numerous new technical and procedural considerations come into play when your product moves from a lab to a manufacturing environment – and then comply with cGMPs. For example, a compound that has demonstrated benchtop stability will need to be further assessed and validated in multiple conditions and temperatures to ensure it can be safely processed, filled, and stored before release. To secure your clinical supply, you need to account for both the volume released to sites and the additional volume that will be sampled for method implementation, in-process testing, and release and stability tests.
Step 6: Find a smart, strategic CDMO partner
A professional contract development and manufacturing company (CDMO) can be a crucial partner in this process – one who can help you pave a clear, confident path to the clinic for your injectable drug product.
What should you look for in that partner? To find a partner with the right combination of expertise, experience, and process knowledge, ask these questions first:
Do they have experience with a compound like yours?
Can they spot potential complications that may impact your timeline?
Does their Quality Management System align with the needs and expectations of your quality organization?
Do they have available fill slots when you need them?
If the answer to these questions is yes, you may have found a partner who can help you not only hit your clinical and regulatory milestones, but also move your product an important step closer toward your market goals.
Clinical filling can be a complex process, but it's one you can navigate with confidence when you have the right proactive, forward-thinking strategy and the right strategic partner to guide you through it. These 6 steps are a proven starting point. Start following them now, and they'll help you fill an efficient, high-quality clinical batch that helps put your product on a path to future success.
Download our eBook: 6 Steps to a Smart Clinical Filling Strategy
Put an efficient, strategic approach at your fingertips with this valuable new resource from Vetter Development Service. Download now for more insights on how to plan your lab-to-clinic pivot.

About Karis Findlan Kraemer
Karis Findlan Kraemer joined Vetter Development Services USA in 2012 as a Project Manager and since 2014 has led the Supply Chain and Project Management teams at Vetter's first US site in Chicago, focused on early clinical phase drug product manufacturing for Vetter's global customers. Before joining Vetter, Karis spent several years at Hospira (now part of Pfizer) in Program Management and Regulatory Affairs roles, worked at Abbott Laboratories in Process Validation, and acted as a Validation Consultant at KMI/Parexel. Karis received her bachelor's degree in biology from Clearwater Christian College in Florida.
About Vetter
Headquartered in Ravensburg, Germany, Vetter is a family-owned, global leading contract development and manufacturing organization (CDMO) with production facilities in Germany, Austria and the United States. Currently employing more than 5,500 individuals worldwide, the company has long-term experience in supporting biotechnology and pharmaceutical customers both large and small. Vetter services range from early stage development support including clinical manufacturing, to commercial supply and numerous packaging solutions for vials, syringes and cartridges. As a leading solution provider, Vetter appreciates its responsibility to support the needs of its customers by developing devices that contribute to increased patient safety, convenience, and enhanced compliance. Great importance is also given to social responsibility including environmental protection and sustainability. Learn more about Vetter at www.vetter-pharma.com.