In 2021, the market for third-party logistics for the biopharmaceutical industry was estimated to be worth USD 117.25 billion. By 2030, it is expected to have grown to USD 195.75 billion, with a CAGR of 5.86% from 2022 to 2030. Biopharmaceutical third-party logistics- 3PL refers to transportation services supplied by outside companies to pharmaceutical companies. As an illustration, it entails receiving pharmaceuticals made of small molecules into the warehouse, completing orders, and monitoring the inventory of the commodities with the use of a warehouse management system. For instance, 3PL aids pharmaceutical and medical institutions in maintaining logistics for the distribution of medical medicines by lowering needless overhead expenses, guaranteeing continuous product supply, streamlining transportation, and enhancing the overall efficiency of the company.
The market's upbeat outlook is mostly due to the pharmaceutical industry's explosive growth. Additionally, the market is expanding due to the growing tendency of medical organisations to outsource logistics in order to strengthen their distribution system. In addition to other technological advancements, the advent of warehouse robots, mobile cloud services, real-time monitoring, and data mining technologies all help to expand the economy. With the use of these technologies, logistics-related jobs can be automated, lowering the complexity of processes, human error, and product damage during transit. Additionally, in line with this, cold chain monitoring solutions based on Near Field Communication and the Internet of Things are used to control temperature-sensitive pharmaceutical products and receive real-time notifications concerning shipments.
Business Dynamics
Drivers of the global third-party logistics market for biopharmaceuticals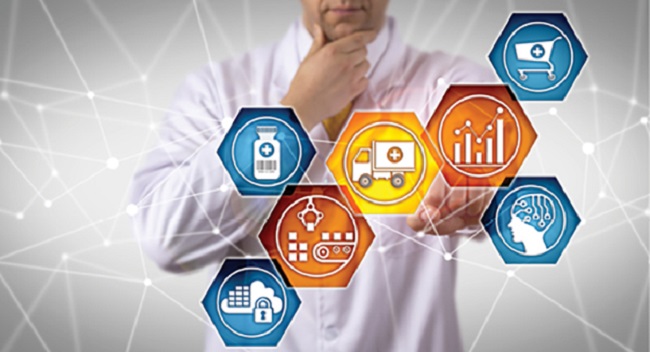 Use of third-party logistics providers growing
The rising demand for effective logistics solutions that can safely transport drugs that are temperature-sensitive is anticipated to be the primary driver of the growth of the biopharmaceutical third-party logistics market. It is projected that the proliferation of biologics and biosimilars, all of which require temperature-controlled logistics services in order to be supplied, will be the primary factor propelling the market for third-party logistics for biopharmaceuticals. The rising adoption of robotics in manufacturing facilities, which is being undertaken in an attempt to cut operational costs, is what is driving demand for third-party logistics services. Additionally, the market for biopharmaceutical third-party logistics is growing rapidly due to the increased need for biologics as a result of the rising prevalence of chronic diseases. The market will be driven by rising environmental concerns among pharma firms and their initiatives to reduce their carbon footprint throughout the course of the projected period.
Increasingly Innovative Technology Research and Development
Technology advancements, one of the most significant drivers, are also contributing significantly to the expansion of temperature management logistic services. The advent of new technology like warehouse robotics, mobile cloud solutions, data mining, and real-time monitoring has had a tremendous impact on the logistics industry as a whole. A survey that was conducted globally in the month of July 2021 revealed that third-party logistics providers give cold chain services a high priority. More than 60% of third-party logistics service providers think that cold chain services will be extremely important for the growth of their business in the years to come.
In order to address the rising need for advanced logistics activities in the biopharmaceutical industry, businesses are spending more money on R&D to develop effective value-added services. Smart sensor technology refers to the engineering that gauges the interior climate of the vehicle. Thanks in part to the adoption of cutting-edge technology, DHL is able to enhance its distribution network.
Restraints in the Global Biopharmaceutical Third-Party Logistics Market
Weak Shipper Oversight of Logistics Services and a Lack of Logistics Professionals
Developing nations continue to lag behind industrialised nations in the development of logistical services. This rise in demand for services can be attributed to the dearth of qualified professionals in the biopharmaceutical third-party logistics industry. The lack of qualified workers makes it difficult to grow the biopharmaceutical third-party logistics sector. As a result, the demand for third-party logistics for biopharmaceuticals has decreased globally.
Competency is important to the shipper or manufacturer of drugs and medications that use a biopharmaceutical third-party logistics service. Because there is no direct management, the shipper must cooperate with a third-party logistics company. Producers are jeopardising the quality of their product because they lack monitoring. The growth of the worldwide biopharmaceutical third-party logistics market is halted because shippers have little control over logistics services.
Opportunities for the Global Biopharmaceutical Third-Party Logistics Market Expand Due to Globalization and Commercial Activities
Increased globalisation has directly led to an increase in a variety of trade-related activities.
As a result, it is challenging for distributors and producers to keep timely, detailed records of these processes. By assisting manufacturers in keeping precise records of their control over these activities, businesses support manufacturers in this regard. The expansion of the global market is another important driver of the biopharmaceutical third-party logistics sector's growth. As a direct result, growing commercial exchange and globalisation activities are supporting the development and growth of the global biopharmaceutical third-party logistics market.
Global Biopharmaceutical Third-Party Logistics Market Segment Overview
The supply chain, service type, and region are used to segment the global market for third-party logistics for biopharmaceuticals.
The global biopharmaceutical third-party logistics market is divided into two categories: cold chain and non-cold chain, according to supply chain. Due to increasing pharmaceutical distributor sales in 2021, non-cold chain logistics contributed to more than 75% of global revenue. Increased scalability, improved visibility, and lower operational expenses all contribute to the development of a more robust logistics network with better returns and lower risks. As a result, 3PL is an element of the business strategy used by pharmaceutical companies. The rise of the non-cold chain segment is also being fueled by the rising number of SKUs per distributor that, unlike biologics, do not need to be transported under temperature control.
Over the projected period, the cold chain is anticipated to have the greatest CAGR. This is because biologics, a unique class of drugs that has expanded quickly in recent years, are in higher demand. Although the industry has witnessed significant advances in precision medicine, such as biomarker testing, cell therapy, blood products, particular immunizations, and tissue regeneration in the form of stem cells, these medications require temperature-and time-controlled distribution.
Currently, temperature data loggers attached to shipments are used to regulate the temperature during transport. Demand is anticipated to increase as a result of developments in data loggers that can measure shock, vibration, humidity, and temperature. RFID hardware and software are also used by the logistics industry to quickly gather information. The cold chain industry will grow as a result of ongoing developments and significant investments in temperature control systems.
The transportation, warehousing & storage, and other services segments of the worldwide biopharmaceutical third-party logistics market are done according to service type. In 2021, the warehouse and storage market constituted more than 45% of total sales. There is a high demand for 3PL services in the pharmaceutical and healthcare sectors. Life sciences companies employ 3PL to reduce overhead and operating costs. Service providers have expanded their offerings to include warehousing and packaging in response to rising demand.
Barcode scanners and robots are used by services to choose and place items from a distance in order to save hassle and turnaround time. The CAGR for others over the projected timeframe will be the highest. The services included include procurement, packaging, customs and duty management, and other value-added services. Pharmaceutical logistics must include packaging since it is more important to the transportation of drugs than storage facilities.
Pharmaceutical companies place a strong emphasis on the medications' quality, uniformity, storage stability, integrity, and packaging standards. So, the market should expand during the anticipated period. Another industry driver is value-added services offered by 3PLs. A provider of straightforward to complex value-added services, Expeditors provides a selection of logistics delivery models that enhance customer satisfaction while reducing the cost of transportation and inventory.
The global third-party logistics market for biopharmaceuticals is divided into North America, Europe, Asia Pacific, Latin America, as well as the Middle East and Africa based on region or geography. With more than 45% of all sales in 2021, North America dominated the worldwide market. This is a result of the region's dominance in the pharmaceutical and biologics industries, as well as rising exports and imports of biopharmaceuticals. Innovative technologies are frequently used since healthcare expenditures are rising.
One of its fastest-growing components is the need for pharmaceuticals, which is increasing due to an ageing population, the acceptance of technologically advanced services, and economic conditions in developing nations like China and India. Demand for pharmaceuticals and biologics is also being driven by an increase in disorders. The demand for insulin is high in Asia and the Pacific due to the high prevalence of type 2 diabetes.
Global Biopharmaceutical Third-Party Logistics Market: Regional Overview
With more than 42% of the total income made worldwide in 2021, the North American market was the most lucrative and had the largest proportion. This is partly due to the region's leadership in the pharmaceutical and biologics markets as well as a growth in the volume of biopharmaceuticals being imported and exported from the region. Additionally, the region has a reasonably high rate of adoption of numerous cutting-edge technologies due to the high cost of medical care. Because of this, pharmaceutical companies in North America are relying more and more on third-party logistics service providers to enhance warehousing and shipping, which is fueling the region's growth. Another element that leads to these areas having the biggest share of the market for this product is the existence of massive companies there. Asia-Pacific is predicted to experience the greatest CAGR during the forecast timeframe.
A number of factors, including the adoption of technologically advanced services, the ageing population's increasing demand for pharmaceuticals, and the evolving economic conditions in emerging nations like China and India, are to account for the Asia-Pacific region's quickest development. Additionally, the fact that more patents will expire in the next few years suggests that the market share of drug sales will significantly shift away from the original brand manufacturer and more towards generic ones. It is anticipated that this element will lead to an increase in pharmaceutical product sales as well as their import and export. The prevalence of a wider range of illnesses is one reason for the increased demand for pharmaceuticals and biologics.