In the past employers have found recruiting top quality talent quite easy in Singapore, either from the  country's highly educated local workforce, or from among the many foreigners attracted by the Singapore's global outlook, and economic and political stability. But today, many companies, especially those in niche, high-growth sectors like biopharma, are finding themselves having to work harder and needing to innovate and embrace new practices to continue to attract new talent and retain the quality talent they have.
Since the pandemic, companies striving to secure and retain high-quality talent are realising they can no longer rest on their laurels and hope to maintain the status quo. According to McKinsey Global Institute's research on future workplaces after COVID-19 [2], the pandemic has accelerated and made mainstream three trends that appeared inconsequential before the era of lockdowns and social- distancing. They are: an increase in remote working and virtual meetings, increased adoption of e-commerce and virtual transactions, and increased adoption of automation and Artificial Intelligence (AI) solutions.
Solutions necessitated by, and adopted during the pandemic demonstrated the feasibility of remote working. Many employees realised the many tangible and intangible benefits these solutions offered them, such as savings on commuting costs and opportunities to experience more of their children's early development. Now, across the globe, employees are seeking out employers who can offer greater flexibility and support in terms of work-from-home (WFH) or remote working arrangements. Employers too have begun to realise that by adopting hybrid working arrangements, they can create a future-ready workplace that will attract more top talent.
Employees are also reluctant to return to pre-COVID-19 workplace environments and are looking for something different. But while few employees would miss the desks and cubicles that dominated offices before the pandemic, many of them may miss face-to-face human interactions which were made possible by being in the same physical space, such as reaching across the table to congratulate a colleague on a promotion, or sharing coffee or snacks with colleagues in the office.
Rethinking the way we work
In early 2022, Sartorius Singapore, a global leader in biopharmaceuticals and life science research, saw the easing of pandemic restrictions and a return to the workplace as an opportunity to address some of those issues. They initiated a journey into transforming the workplace, which began with a workplace behaviour survey, followed by open talks between the employees, department heads, managers, and an innovative office design team to articulate and consolidate their needs.
As part of this journey, Sartorius engaged with employees from all levels and encouraged them to participate in conversations on the type of workplace they would like in the future, how their work habits had changed during the pandemic, as well as how any future workspace could be more effectively utilised to bring people together and encourage collaboration.
It was a conscious decision by the Sartorius management team to kick-start this transformation journey because they could see we would never go back to the way we used to work before COVID-19. The company wanted to involve employees from all levels as well as the department functional heads to find common ground they could agree on for how and where they would like to work together in the future.
As a result of these consultations, the company has designed, built, and recently moved into a brand new, combined office and laboratory facility that utilises the Activity Based Working concept to bring together many different departments. The new space has done away with cubicles and even offices for senior management. Instead, it offers a wide range of seating options, even standing desks for those that prefer them, which are scattered around the space and interspersed with coffee tables and easy chairs to encourage staff interactions and collaboration. Wherever possible walls have been removed, or where necessary such as around laboratory areas, replaced with glass partitions to reduce, if not remove, barriers between departments and between staff and management.
The company has also adopted a hybrid working arrangement based on its new Workplace Guideline Policy to guide employees in managing their time, while enabling them to choose how they wish to work. This has been further supported by the design of the new office, which is built with all the all the essential tools and technology needed to create an efficient, cutting-edge hybrid office.
In another innovation the company is putting employees in the driver's seat in steering their own career paths by doing away with traditional concepts of career advancement, and instead offering more job mobility and flexibility.
We want to empower our employees to have a future-ready mindset and own their career journeys. Employees can be exposed to roles and functions across the organization in which they want to develop their skillset or acquire experience. For example, someone in the Application Services function could request a stint in the Sales or Marketing function to further sharpen their interaction with customers. This concept is applicable across all our functions, enabling our employees to pick up mentoring, job-shadowing, rotation, as well as short and long-term assignments in an area of their choice. They are also given opportunities to be engaged in different learning offerings as part of their professional development both within and outside of the organisation.
From our observation, this is in line with the way many of today's workforce are approaching their careers; they are moving laterally – expanding their scope, seeking out different experiences, and honing different skill sets. It's no longer about the traditional unidirectional path of promotion.
Flexi-work the new norm
The initiative by Sartorius is timely, in line with the recent call by Singapore's Manpower Ministry for more companies to adopt the Tripartite Standard on Flexible Work Arrangements or FWA [3]. FWAs not only include WFH arrangements but also staggered work hours and job-sharing.
According to a white paper released in March 2022, 73% of companies that offered FWAs indicated they were likely to continue doing so after the pandemic, while 63% said they were willing to allow employees who can work from home to retain the practice at least half the time. The number of employees aged 25 to 64 who required FWAs had also risen to nine out of 10 in 2020, from just six in 10 in 2014 [4].
The results of Sartorius's workplace transformation journey speak for itself, says Michelle, who has already received positive feedback from many employees. She observes that workplace transformation has not only led to better collaboration and engagement among staff, and increased employee motivation, but also better alignment between the employees and the brand.
Employees today have a different mindset, especially the younger talents. They prefer to manage their work demands flexibly and can maximise their time spent on working out, socializing, and or spending time with their young children, and so on. Many of them actually don't mind working late into the night if they have the flexibility to manage their time. In fact, candidates these days enquire early in the interview process about flexible working arrangements and when they learn that Sartorius practices a hybrid work culture, the response has been positive. So, we think flexibility will certainly be the key for a successful and happy workplace in the futu
Author:  Michelle Yeo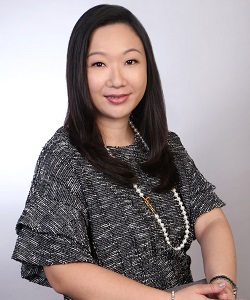 Michelle leads a team of HRBPs in Asia, covering business partnering and working closely with the COEs to drive people and organizational initiatives.
She is a seasoned HR professional with experience in multi-national and public listed companies across different industries – FMCG, Digital security & technology, and professional consulting.
In her work, she has built strong relationships with business leaders and collaborated with HR teams to develop and execute initiatives such as translating global framework into regional adaptation, enabling change in workplace culture, talent development, policy formulation and union negotiation.
Michelle is a dedicated and passionate HR professional who thrives on challenges. She is passionate in helping organizations create environments where employees can thrive.
Michelle holds a Bsc in Business (Hons) from the LSE and is a certified Senior HR professional awarded by IHRP.
COMPANY: SARTORIUS
Sartorius is a leading international laboratory and process technology provider for the life sciences, pharmaceutical and food industries. We help our customers implement complex and quality critical laboratory and production processes in a time and cost-efficient way. We are strongly rooted in the scientific and research communities and closely allied with customers and technology partners in our dedication to pursuing our philosophy of "turning science into solutions".
At Sartorius we like to say we are part of the solution. We empower scientists and engineers to simplify and accelerate progress in life science and bioprocessing, enabling the development of new and better therapies and more affordable medicine. We help to ensure that new scientific discoveries can be translated more quickly into effective patient care. With technologies, platforms and partnerships for a common goal: better health for more people. The 21st Century is going to be the biotech-century, already we have seen remarkable advances and Sartorius stands ready to support scientists, engineers and companies with the state of the art equipment and technical support they need to make the next big breakthrough. We are a magnet for pioneers and leading experts in the field, providing a dynamic platform to bring creative minds and diverse talents together for a common goal: technological breakthroughs that lead to better health for more people.