In the presence of various partners, swop 2019 and "PKG Family" joined hands for the third time to launch the "FMCG Future Zone". Ms. LAN Naiying (Xianjunlong Printing), Mr. WANG Bingxiao (Jingli Can Co.,Ltd), Mr. LI Daoyang (Liji Packaging), Mr. YAO Zhengyu (Beauty Star), Mr. Leo Wu (Founder of PKG Family), Ms. DU Jingxian (Adsale Exhibition Services Ltd.) and Ms. GU Yan (Messe Düsseldorf Shanghai) attended the signing ceremony.
Renowned companies including NoxBellcow, APP, EASY-LOOK, RPC and AIA actively signed up for participation at swop, which will be held at the Shanghai New International Expo Center from November 25th to 28th, 2019. Preparation for the event is well underway with impressive progress. swop has proven to be a comprehensive and integrated industry exhibition covering 8 major sectors, i.e. food, beverages, confectionary, bakery, pharmaceuticals, cosmetics, non-food and industrial products.
Third cooperation andstagingof "FMCG Future Zone"
swop 2017 and 'PKG Family'joined forces and achieved outstanding results, bringing together 18,118 trade visitors from nearly 80 countries and regions including China, the United States, Russia, South Korea, Japan, India, Vietnam and Malaysia. Buyers of household chemical products, food and beverages were also present at the event, including notable industry leaders such as Chanel, Dior, Estee Lauder, L'Oreal, Unilever, P&G, Kao, Starbucks, Haagen-Dazs, Anheuser-Busch InBev, Coca-Cola, Mengniu and Yili.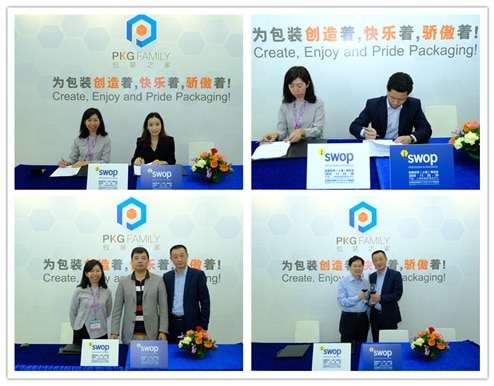 swop 2019 will once again team up with "PKG Family", as an agreement enters the two parties into a third-time cooperation aimed at showcasing top industry qualities and future trends. The "FMCG Future Zone" will be staged in Hall N3 to bring together the latest packaging materials, ideas, technologies and new products/designs for end use industries such as food, cosmetics and pharmaceuticals on its 12,000 m2 exhibition area. Exhibits include paper, plastic, metal, glass and other packaging products, materials, goods and design, logistics packaging materials as well as innovative packaging materials such as thin film and color masterbatch.
Industry leaders come together
More than 200 manufacturers are expected to make their appearance at the event, as leading players from the packaging and printing, paper box, metal, plastics, spray pumps and other industries have reached agreement to collaborate with swop 2019. Namely:
• Xianjunlong Printing
A subsidiary of Win Tai Woo Printing (Group) Industrial Co Ltd, Xianjunlong Printing is a comprehensive and large-scale printing industry group. The company produces packaging color boxes, hardcover boxes and film boxes with the use of luminous techniques, temperature change materials, fragrance ink, conductive ink, local contact oil, crystal and matte elements as well as platinum relief. It is committed to providing a wide range of printing and packaging services and applications for cosmetics companies both from home and abroad, establishing itself as a professional solution provider for cosmetics packaging printing.
• Jingli Can
Dongguan Jingli Can Co., Ltd. was established in 1999. Under the leadership of its founder Mr. WANG Bingxiao, Jingli and its subsidiaries have developed into the world's largest manufacturer of tinplate cans. The company provides tin box packaging solutions and products for food, confectionary, tobacco and cosmetics. Its end customers include Mars, GODIVA, Ferrero, China Tobacco Group, Luzhou Laojiao and Yunnan Baiyao.
• Beauty Star
Shenzhen Beauty Star Co.,Ltd. is a state-owned, high-tech and a-share company specializing in cultural creativity, new material technology and circular economy. Founded in 1995, the company offers products and services including creative design, process equipment and precision mold design and manufacturing, carbon nanomaterials, modified polymer material and environmental-friendly materials, high-end cosmetics and food packaging solutions and products, automotive lightweight solutions, new energy packaging materials, RFID intelligent packaging, packaging waste recycling as well as CNAS and CMA accredited high-end precision testing.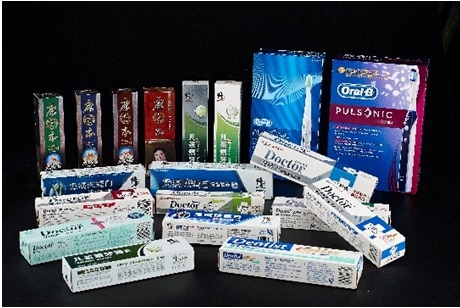 • CLC Packaging
Established in 1994, CLC Group has been committed to the development and production of daily-use spray pumps and aerosol valves. It is one of the preferred suppliers for companies that produce household chemical products. Its three production bases are located in Zhongshan City (Guangdong Province), Wujiang City (Jiangsu Province) and Thailand. With a strongcapability to innovate and outstanding service, CLC has established long-term cooperative relationships with domestic and international industry leaders of household chemical products. They are a brand behind many famous brands.
• Liji Packaging
Established in 2006, Liji Packaging is the only designated sales company for cosmetic bottles by Guangdong Huaxing Glass Co., Ltd. The company is mainly responsible for the design, development and sales of cosmetic bottles of Huaxing as well as deep processing of glass bottles, accessories and after-sales service. Liji Packaging is committed to providing the cosmetics industry with perfect skincare glass packaging. At present, the company has nearly 470 skincare package series and nearly 1,500 single products that are extensive and practical to use.
In addition, swop will also organize a group of end use industry leaders to tour the exhibition and potentially place orders, including Shanghai Jahwa, Blue Moon, MAOGEPIN, Kose, Nivea, L'Occitane and Mentholatum from the household chemical industry; Uni-President, Coca-Cola, Hershey, Danone, Want Want, Bestore and Nongfu Spring from the food and beverage industry; and fast-moving consumer brands such as Alibaba, YANXUAN and Philips.
The 'PKG Family' will join hands with the organizer for a high-end FMCG summit, an opportunity that allows for close contact with industry leaders. The event will invite members from both the end use industry and the packaging industry chain to deliver keynote presentations, case studies, future trends of the industry and innovation.
About swop 2019
swop 2019 innovatively stages five pavilions on 9 themes, namely "SAVE FOOD", "FMCG Future Zone", "E-commerce/Logistics Packaging", "Printing Packaging" and "Components Zone". As a member of the interpack alliance, swop will make full use of interpack's global network and network resources to conduct multichannel marketing campaigns, and invite trade buyers both at home and abroad. swop 2019 is expecting to attract nearly 1,000 packaging machinery manufacturers worldwide, especially leading processing and packaging machinery manufacturers from Germany, Italy, Turkey, Spain and the United States. Booth reservation and visitor registration is open for swop 2019. Visitors get the opportunity to learn from industry leaders and make use of an international one-stop sourcing platform for the entire industry chain.
For companies that are interested in participation, please visit the official website: www.swop-online.com