Oriented research and development of new products to lead the new trend of nutrition and health.
Nestle held the "Nestle China Innovation Day" in Beijing to showcase a number of innovative projects launched in China this year. The number of new projects has doubled compared to last year, and many of them are aimed at China. The market is tailor-made and is committed to filling the gap in the market. China's Nestle's second largest market in the world is gestating a new trend in food health.
Rashid Aleem Qureshi, Chairman and CEO of Nestle Greater China, said: "In the face of China's rapidly changing food and beverage business, Nestle has accelerated the improvement and testing of innovative models in recent years, creating a healthy Sustained multi-dimensional innovation strategy. Nestle has been committed to the goal of 'improving the quality of life and contributing to a healthier future' for more than 150 years. In the next two years of innovation, there are hundreds of innovative projects in full swing, which will be Consumers bring more choices of nutritional health products."
Nestle Greater China Chief Marketing Officer Jiang Nini said: Nestle's multidimensional innovation strategy is supported by three key levers: in addition to accelerating innovation and improvement to steadily develop the company's underlying business, it has specifically increased consumer experience innovation, including consumption patterns and Consumer sites; and set up a Nestle incubator to seek new business gaps.
Consumer experience innovation, Nestle Ai leads the new fashion of voice shopping
Nestle's "nutrition, health, and happy life" is the core of the company's pursuit. Following the launch of the speech recognition intelligent family nutrition health assistant – Nestle Small Ai last year, it continues to enhance the user experience according to market demand and officially launches the second generation product. The upgraded version of Nestle Small Ai has added 300,000 nutritional health content, massive health tips can be queried at any time; launch personalized personalized intelligent interactive experiences, such as customized nutrition recipes and calorie calculations; and launch Nestle commodity voice shopping channels, Consumers bring a new and convenient shopping experience.Nestle Ai creatively combines intelligent voice with knowledge and information in the field of nutrition and health, close to the needs of users, and the upgraded version enhances the user experience. Nestle Ai is committed to providing customized nutrition and health information for Chinese families, becoming an intelligent family nutrition health assistant, using speakers to extend the service more naturally and smoothly into the user's life, and the combination of technology and consumer goods, hardware and knowledge. A new consumer communication channel and service system.
Nestle Ai is the first innovative experience of Nestle Group for Chinese consumers. This year, we have launched the innovative experience of "Nestle My Nutrition APP", Nestle Coffee Office Café, and Wyeth Mom Smart Smarter.
Business model innovation, Nestle incubator quickly fills the gap in the market
With the implementation of consumption upgrades and healthy China 2030 planning, the needs of Chinese consumers are constantly changing, and people need more healthy, natural and customized products. Compared with the European and American consumer markets, the overall development direction of the Chinese market is converging, but the pace of change is significantly faster than that of Europe and the United States, which is more challenging.
Nestle founded the innovative incubator team at the beginning of the year, focusing on the blank areas of Nestle's business and responding to the needs of the Chinese market to develop new products. China is also a market for the accelerated innovation of Nestle's special incubators after the United States. On Nestle China Innovation Day, Nestle officially released three new brands tailored by the incubator team for Chinese consumers: traditional and modern technology combined with healthy soup "good fortune", personalized customized healthy snacks "natural diners" and Sports and fitness ready-to-drink high-protein water "MuscleHunt muscle hunting", the new brand will soon enter the market with the first e-commerce as a listing channel.
Nestle China accelerates innovation
Product orientation innovation, Nestle deeply cultivates the healthy market in China
Nestle Incubator and Mrs. Taige jointly created the "Xingshan" healthy soup brand, which aims to provide consumers with high quality and healthy soups by combining modern technology with selected ingredients. The Nestle R&D Center has been researching traditional Chinese ingredients for many years. The initial focus is on the use of technology to show the power of healthy diets. The selection of traditional ingredients is presented through modern technology. This year plans to launch the Lucky Rose Pomegranate Plant Drink, the Lucky Honeysuckle Plant Drink, the Lucky Honey Inulin Plant Drink, the Lucky Ginseng and the Chicken Soup, the Lucky Cordyceps sinensis Chicken Soup, and the Lucky Collagen Jujube Chicken Soup. Provide consumers with a wide range of nutritional options.
Nestle China accelerates innovation
Roberto RENIERO, General Manager of Nestle R&D (China) Co., Ltd., took a group photo at the booth of Xingshan
Nestle Incubator and Hsu Fu Chi launched the "Healthy Zero Food Brand" "Natural Diner", which is mainly developed by "divisionist, innovative taste, variety and individuality". It aims to liberate everyone's food and enjoy nature. While enjoying the beneficial value of snacks, enjoy A more interesting personalized experience. A selection of high-quality ingredients, blended with nuts, dried vegetables, freeze-dried fruit, dark chocolate and more, offering more than 30 delicious choices, consumers can also freely mix into a theme snack box according to their personal preferences and scenes. "Natural Diners" also established "Unfair Snacks Research Institute" with fans. Fans can regularly participate in new product development and theme box creation, from idea to product creation.
Nestlé Incubator and Silver Heron create "MuscleHunt Muscle Hunt" high-protein water, which is positioned as a professional and convenient protein replenishment solution for the fitness group. It is a high-protein, high-quality, refreshing, ready-to-drink "muscle hunting" high-protein water. It came into being. Its protein is derived from imported high-quality isolated whey protein powder, strict production quality management system, its powerful research and development technology, four different flavors, so that the product was tested at its convenient, tasty and sufficient protein content. Fitness enthusiasts alike. In addition to the traditional e-commerce channel, MuscleHunt muscle hunting high protein water will also gradually enter the OXYGYM Ogilvy & Mather Sports Center and other boutique gymnasiums for offline sales, closer to the fitness crowd.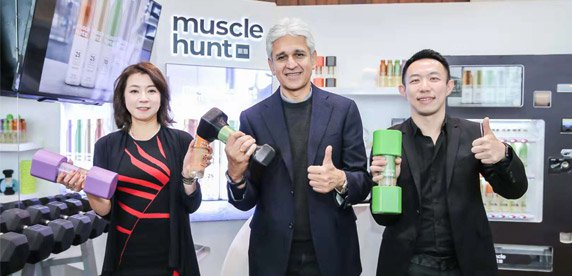 Nestle China accelerates innovation
Nestle Greater China Chief Marketing Officer Jiang Ni Ni (left), Nestle Greater China Chairman and CEO Rothschild (middle), Nestle Greater China Innovation and Improvement Director Wang Siwei (right) at the "MuscleHunt Muscle Hunting" booth
Rashid Aleem Qureshi, Chairman and CEO of Nestle Greater China, said: "The reason why Nestle is evergreen is based on more than 150 years of accurate insight into consumer trends and the ability to respond quickly to implementation. To enhance our capabilities, we Working with academic institutions, NGOs, start-ups and innovative partners, Nestle Incubator is rapidly turning golden ideas into reality. In China, we are seeing more and more breakthrough innovations, which are more exciting than before. ."
About Nestle
Founded in 1866 and headquartered in Weiwei, Switzerland, Nestle is a world-renowned food and beverage company dedicated to nutrition, health and well-being. Products include dairy products, infant formula, breakfast cereals, coffee, ice cream, chocolate, Confectionery, bottled water, beverages, frozen foods, condiments, health sciences, skin health and more.
China is Nestle's second largest market in the world. Beijing is the headquarters of Nestle Greater China. It currently operates 33 factories, 4 R&D innovation centers (Beijing, Shanghai, Dongguan and Xiamen), 1 dairy farming training center (Heilongjiang Shuangcheng) and 1 Nestle Coffee Center. (Yunnan Pu'er), 1 Food Safety Research Institute (Beijing), 4 customer exchange centers, and nearly 50,000 employees.
Nestle's main product categories in the world are almost always produced and sold in China. At the same time, it also provides high-quality products to consumers through local brands such as Taihaole, Yinlu, Xufuji, Dashan and Haoji.