As China continues to advance from a big country in pharmaceuticals to a power in pharmaceuticals, and the global economy maintains good trends, the main business income of API manufacturing in China has reached RMB499.1 billion, growing by 14.68% year on year; and the export of APIs has reached USD29.1 billion, growing by 13.7% year on year.
Under the background of the new round of economic structure adjustment and supply-side reform, the proportion of import and export of western medicine preparations and biochemical drug products that are of higher additional value continues to increase in western medicine trade, showing that the transformation and upgrading of China's pharmaceutical industry have taken a big step forward. The steadily progressing achievements and the unlimited potential demonstrate that China's pharmaceutical industry is marching on a road of sustainable and healthy development.
Under sucha background, the CPhI & P-MEC China 2019 organized by UBM EMEA and China Chamber of Commerce for Import & Export of Medicines & Health Products (CCCMHPIE) and co-organized by Shanghai UBM Sinoexpo International Exhibition Co., Ltd. will be grandly held at Shanghai New International Expo Centre (SNIEC) on June 18-20, 2019. CPhI China will assist enterprises to write a new chapter of pharmaceuticals and develop new patterns of international market with transformation and upgrading.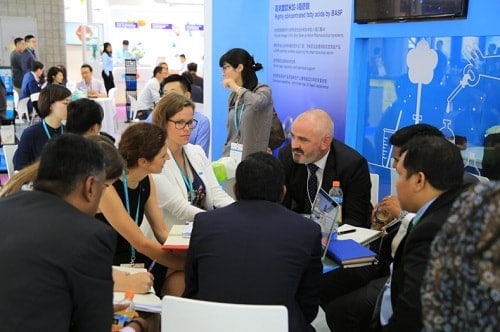 Exhibition scale upgraded, upstream and downstream industrial chain covered
In compliance with the industry development trends, CPhI China has been constantly exploiting and extending coverage of upstream and downstream industrial chain while deeply taking root in the pharmaceutical API industry over the 18 years. It has now included 8 segments including APIs, fine chemical and intermediate, pharmaceutical excipients, preparations, contract research, biopharmaceuticals, natural extracts, and animal health &feed, and become a professional trade exchange event in the vertical chain of the global pharmaceutical industry, which is second to none.
Wherein, BioPh China will be newly upgraded into bioLIVE China in 2019, to focus on exhibition of product and technologies in genetic, antibody and biological cell engineering,to furnish biopharmaceutical companies, new drug R&D enterprises, and professionals a unique one-stop exchange platform for pharmaceutical trade, and to foster thedevelopment of the biopharmaceutical industry. Moreover, the zones of finished dosages, pharmaceutical excipients, and animal health and feed will continue to expand in 2019, to further refine the industry chain and build an upstream-downstream integrated platform.
Leading innovation through an international vision, and gathering Chinese and overseas excellent exhibitor groups and visitors
The 2019 exhibition will cover all the 17 halls of SNIEC for the first time, to create the strongest lineup in its history, with the exhibition area to be expanded to 200,000m2. It is expected to gather over 3,200 Chinese and overseas excellent enterprises, and attract over 70,000 visits of Chinese and overseas professional visitors from 120 countries and regions. Over 100 high scale meetings and activities will be held on site concurrently with the exhibition, to present the latest development trends and advanced technologies of global pharmaceuticals.
Famous for its high internationalization degree, CPhI & P-MEC China has attracted international exhibitor groups from South Korea and India, as well asgrowing numbers of international visitors from all over the world. The 2018 exhibition attracted a total of 15,329 visits of overseas visitors, which was highly praised by exhibitors. Lin Hui, Chairman of Guangzhou Baiyunshan Chemical Pharmaceutical Factory, said, "Joining CPhI for consecutive years to meet many well-known Chinese and overseas enterprises has offered many opportunities for expanding our new market and seeking new partners and new business opportunities for cooperation. As the number of well-known Chinese and overseas enterprises that join the exhibition grows, the exhibition provides a good platform for us to display strength and expand visibility."
China Pharma Week, an unmissable annual high-end event of the pharmaceutical industry
CPhI China is an exhibition always at the forefront of the international pharmaceutical industry. The organizers will continue to launch the third edition of the 5-day "China Pharma Week" (June 17-21) in 2019, to cover themes of Leadership, Business, Networking, Recognition, Knowledge, and Innovation of the pharmaceutical industry. The conferences thereof will cover extensively, including analysis of Chinese and foreign pharmaceutical laws and regulations and new policies, analysis of markets of key export countries, and sharing of experience in overseas market development, etc.; and the events will be diversified, from the top-notch awards selection of the industry, enterprise executives networking dinner, to factory visit, and discovery tour, etc.
The wonderful conferences and activities will extend the grand moments of the event to "pre-exhibition" and "post-exhibition", and continue to create a quality atmosphere for people on the pharmaceutical industry chain to achieve business cooperation and negotiation, and high-end socializing.
Over 100 Meetings and Activities to "Ignite" the Whole Pharmaceutical Industry Chain
Visit the exhibition website www.cphi-china.cn/en now to register online, to join the annual pharmaceutical event of pharmaceutical practitioners!