The healthcare industry is rapidly changing. People, machines, and information are becoming increasingly interconnected. Due to the COVID-19 pandemic, innovations at the interface between pharmaceutical products, services, and digital datahad to be accelerated. Vetter, a leading contract development and manufacturing organization (CDMO) is undergoing change too, testing future technology and implementing new digital systems. Our mission remains the same: To sustainably improve the patients' quality of life with the drugs we produce.
Although the digital transformation is behind many of the advances Vetter has made and is deeply rooted in our company strategy, it is not self-serving. As a leading company in the aseptic filling and packagingof syringes, cartridges, and vials, we have a great responsibility. Put another way, our jobs are about people's lives. Digitalization becomes important for us when it significantly and justifiably further improves quality and processesfor our customers and especially the millions of patients who rely on them for their medication. Vetter produces drugs that are crucial for many people's lives worldwide. Among them are therapies for the treatment of cancer, rheumatism, or multiple sclerosis, as well as medications for rare diseases.
Reliable, efficient, and safe processes are the very essence of our industry. The regulatory specifications in the pharmaceutical environment are very restrictive,and for good reason. However, this also means to leverage digitalization we must overcome a higher complexity.
The future is now
Digitalization at Vetter is already being lived on an everyday basis. Our company strategy,Vetter NExT 2029, is being developed with staff members in virtual workshops. Many of the collected ideas and challenges deal with our digital roadmap.
The digital change at Vetter has many features. Within the scope of digitalizing central key processes, the future factory processes are a part of our focus. We are therefore dealing with topics such as predictive maintenance, visual remote services, or intelligent worker assistance systems to significantly reduce standstill and troubleshooting times.
Artificial intelligence (AI) has already been implemented at our company with the successful usage of machine learning systems. We are working on projects such as generating text from data – the so-called natural language generation, up to complex forecasting projects in the context of controlling. Moreover, we will rely on robotic process automation for recurring and clearly-defined tasks in the future.
To strive for innovation on a continuous basis is what we consider an integral part of our responsibility. We develop some of these digital infrastructures completely in-house and are, thus, setting up important competencies that are becoming increasingly significant for ourfuture.
People are always at the center
The implementation of digital processes concerns the essential core processes of Vetter. Within the scope of our wide-ranging digitalization strategy, we focus on, among other things, projects in the topic areas production, quality, and the supply chain. But digitalization is also advancing in the administrative areas with a wide variety of projects.
While digitalization is increasing, the activities and procedures at work change as well. How can we manage to undergo this change in a sustainable and successful way? This can only be done via people who feel confident and comfortable with applying new technologies. Our staff members have helped shape Vetter for over 70 years. Today, they number around 5,500 on three continents and are the most important success factor of our digital journey.
Kai Vogt, Senior Vice President Corporate Development/Legal/Corporate Compliance/IT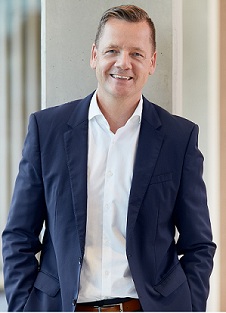 Since October 2016, Kai Vogt has managed Corporate Development, Legal/Corporate Compliance as well as IT at Vetter Pharma-Fertigung GmbH & Co. KG. After completing his commercial training and business studies, he took over operational and strategic responsibility in the industrial sector and consulting. Prior to his position as Senior Manager at Vetter, he was, among others, responsible for the international corporate development at centrotherm and Bilfinger Industrial Services. Together with his team and the respective departments, he drives the implementation of the company strategy and, among others, focuses on the digitalization of the core business at Vetter.
About Vetter
Headquartered in Ravensburg, Germany, Vetter is a global leading contract development and manufacturing organization (CDMO) with production facilities in Germany and the United States. Currently employing 5,500 individuals worldwide, the company has long-term experience in supporting biotechnology and pharmaceutical customers both large and small. Vetter services range from early stage development support including clinical manufacturing, to commercial supply and numerous packaging solutions for vials, syringes and cartridges. As a leading solution provider, Vetter appreciates its responsibility to support the needs of its customers by developing devices that contribute to increased patient safety, convenience, and enhanced compliance. Great importance is also given to social responsibility including environmental protection and sustainability. Learn more about Vetter at www.vetter-pharma.com.